C-D Radar is derived from the NAS-22S family of advanced 3D Multifunction Radar (MFR) in S Band, based on Digital Array Radar (DAR) technology. C-D Radar is modular and can be provided to get an azimuth coverage of 360° or 180°. The DAR technology is modular and exploits Virtualabs Bricks (VBR). The 360° coverage version exploits 16 VBrs divided in four faces, while the version covering 180° is composed of 8 VBRs divided in two faces. Each VBR is composed of 16 TRM fully controlled in digital form.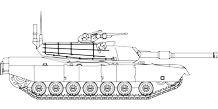 MBR Meteorological Basic Radar
VirtuaLabs is developing a "Meteorological Basic Radar" based on Digital Array Technology (DAR). It is expected in future all meteorological Radar will based on this technology thanks to its very cost "effectiveness".
Research/Experimental Radars
GROUND EARLY WARNING RADAR